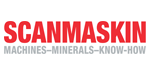 Floor Grinding and Polishing Machine For Sale in Oman
Teejan Equipment LLC is the proud partner of Scanmaskin, floor grinding and concrete polishing equipment in Oman
Scanmaskin is a well-known manufacturer of floor grinding and concrete polishing equipment with unsurpassed quality, durability, and reliability. The Scan Combiflex line of floor grinders from Scanmaskin has set the standard by which all other grinding machines are judged. It's engineering excellence you can see. For dependable, consistent grinding results you can trust from job to job, Scan Combiflex grinders from Scanmaskin are second to none.
Experienced concrete professionals will notice that something that all Scan Combiflex models are missing – long handles to lean against. Through superior engineering, Scan Combiflex floor grinders are designed to direct all the torque of the machine down to the floor, not against the operator. While other machines may have you feeling like you're hanging on to a bucking bronco, Scan Combiflex floor grinders offer smooth operation. So smooth, in fact, that you can set your coffee cup on the machine and it won't slosh or spill.
Scanmaskin engineers discovered that most grinders in the marketplace have a poor power transfer ratio due to the inefficient design of their drive systems. This means that competing units need larger horsepower motors to overcome the power loss, and yet they still deliver less grinding power to the floor. Scanmaskin's patented drive systems provide a higher, more efficient power ratio, so a smaller horsepower motor can be used without sacrificing performance. This superior engineering lets Scanmaskin drive systems deliver more grinding power than competing units with larger horsepower motors!
Enquiry