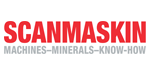 Floor Grinding Machine For Sale in Oman
Teejan Equipment LLC is the authorized dealer for Grinding & Polishing Machines in Oman. We represent Scanmaskin from Sweden for market leading and floor grinding, surface finishing and polishing equipment . Scanmaskin have a wide range of floor grinders for all types of work. We can offer you grinders from small to big grinding project.
We can offer Grinding machines from 330 mm bar to 1000mm width as standard. Our range includes Electrical, engine powered, remote controlled grinding machines
Teejan Equipment provides complete after sales service for Grinding machines along with grinding tools (diamond tools), consumables, spare parts and AMC for bigger capacity machines.
Enquiry